I have to apologise to Nintendo, they sent me a wonderful Christmas gift which I was going to tell you all out in December but we were all so ill that I never got around to it.
Do you want to see what they sent me?
Yes its a Nintendo 2DS in red which is rather lovely. The strange thing is about a week before they sent it to me I was at my dads going through boxes in the loft and found me and my sisters old Game Boy Colour and the original DS. Looking back we really are a Nintendo family. We had an original Game boy when we were younger than moved onto the Game Boy Colour. Both me and my sister had DS Lites and we own Wii's.
Anyway when this arrived I was very excited as my DS Lite has died on me and I do love a little bit of gaming. They also sent me a code for the new Animal Crossing New Leaf which I actually knew how to play as I has it on my DS Lite.
The first thing I noticed is the 2DS is fixed unlike the old DS Lites or the new 3DS which can be closed. Which reminds me I need a case for it!
I had to charge it before I could have a play so I waited until the children were asleep. It powered up straight away and was really easy to navigate.
It has two screens which I rather like and the menus are easy to get in and out of. You can use the button or the stylus.
Even though its large its comfortable to hold.
It comes with some Augmented reality games which are really fun.
What I really like about this is that you can either buy the came cartridges or download the games form the Nintendo Shop. I was sent a code for the Animal Crossing New Leaf and it was so simple to do.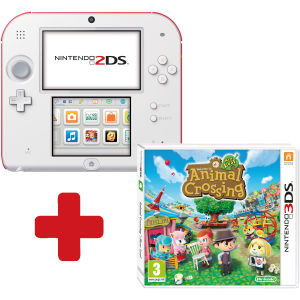 I have also treated myself to Mario Bros 2 as I love that game and it was under £5. They have a great back catalogue of old games.
Animal Crossing New Leaf is a great game. You become the mayor of your own town and can build houses, go fishing etc. You can have multiple towns so each person in your family can play their own game.
I haven't introduced BG to the 2DS yet as I need to find a game for her to play. At 5 years old I think she's a bit young for animal crossing she would get bored to easily. If you can recommend a good game let me know.
Other features I like are:
The Sleep Button
Clear Screen
Can play DS and 3DS games on it
Comes with memory card
I really like the 2DS and if you are looking for a game console for yourself or as a gift then I don't think you can go wrong with a Nintendo 2DS.
The 2DS costs £109.99 and you can get bundles for £109.98 from the Nintendo Store.